SATURDAY 9th JULY, 2022
IT'S TIME TO UNLEASH YOUR INNER DINGO…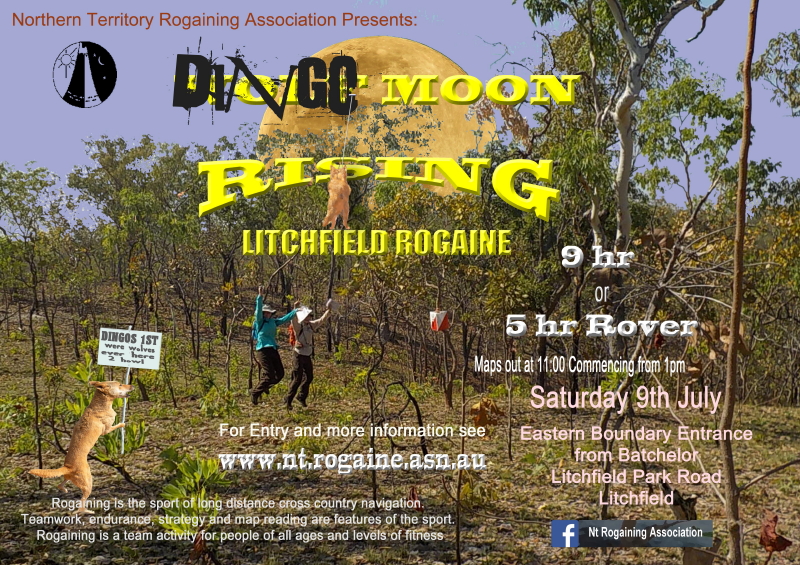 In Australia, there has never been a true wolf breed. However, a close relative of the wolf is the dingo. Elsewhere in the southern hemisphere, the full moon in July is known as the Wolf Moon. Here in the NT, we are calling it the Dingo Moon.
This event is a BUSH ROGAINE set in the beautiful Litchfield National Park, about 90 minutes drive south of Darwin. The objective of the rogaine is to amass the highest score by finding checkpoints in the bush within a set time limit.
Teams of two to five members travel entirely on foot, navigating with the aid of a topographic map and handheld compass. Teams select their own order of visiting checkpoints, in varied terrain. The bush rogaine includes both day and night navigation. Teams can return to the Hash House for rest, food and socialising as often as they wish.
The Hash House for the Dingo Moon Rising Litchfield Rogaine is located near to the eastern boundary of Litchfield National Park. Travel through Batchelor and along Litchfield Park Road. Just past the eastern park boundary, look for the NTRA signs. (If you get to the Termite Mounds, you've gone too far)!
Choose from two events:
9 Hour ROGAINE
Start at 1:00pm, finish by 10:00pm. Hey dingo moon. Come cast your spell on me. Traverse the bush through day and night, by the lunar light!
5 Hour ROVER
Spend a maximum of 5 hours on the course, any time within the 1:00pm to 10:00pm window.
MAPS OUT from 11:00am. Free overnight bush camping on site (BYO gear). DINNER and BREAKFAST are provided.
HOW TO ENTER
1) Find the Entry Form attached below.
2) Select your preferred event on the Entry Form. Complete all of the BLUE sections on the Entry Form.
3) All team members must read and agree to the indemnity statement. This statement can be found on a separate tab on the Excel entry form.
4) Email your completed form back to This email address is being protected from spambots. You need JavaScript enabled to view it..
5) Pay your entry fee via bank transfer:
NT Rogaining Association
BSB: 065 901
Acct: 1055 9967
Ref: Surname DMR
6) EARLY BIRD DISCOUNT - get your entry in before 11:00pm on 29th June 2022.
7) All entries for this event close at 11:00pm on 5th July 2022.
NEED HELP?
Email: This email address is being protected from spambots. You need JavaScript enabled to view it.
Facebook: https://www.facebook.com/NT-Rogaining-Association-361066167314461/
Phone: 0436 282 747
DISCLAIMER
Rogaining is an activity which can involve risk of personal injury or property damage. By participating in the activity, each participant acknowledges that the sport of rogaining involves considerable risk and agrees that in entering this rogaine they do so at their own risk.